Archive for January, 2011
Once upon a time there was a little girl named Kerry. She had aspirations to be a great pianist, so she told her mom that she'd like to take piano lessons. Her mother thought that would be a great idea; so she found a music teacher that would come to the house to teach Kerry.
Every time the teacher would come, Kerry's little 3 year-old brother Robert would hide around the corner and listen. This went on for weeks. Around the third month, Kerry couldn't seem to get a particular song the teacher assigned her to practice and learn.
Earlier, the teacher played what the song should sound like. Little 3 year old Robert was around the corner listening. Even though he couldn't comprehend it at the time, in his head he knew how to put the combination of notes together to produce the sound he was hearing. In his head he kept on saying "That's easy, I can do that," he continued, "Oh My Gosh Kerry, it's so simple." But at that time, it was his sister taking lessons and not him. He couldn't interrupt and say that he knows how to play it. I mean would you listen to your 3 year old little brother?
So Robert waited until Kerry was Exhausted, Frustrated and Finished practicing for the day. Once she was out of site, Robert rushed to the piano to play exactly what he heard; and he played it exactly.
Whewww!! He felt like he would have exploded had he not played the song at that moment. So he kept on playing it over and over again. About that time, Kerry decided that she would come back and give that song another go. However, why was she still hearing the song? Did her teacher come back? Was she hearing things? "Is it a DUPPY?" (In Jamaican terms that's a ghost)
Very carefully she crept around the corner and could not believe her eyes. There, was her little brother on the piano playing the very song that she couldn't. Kerry experienced different emotions at that time.
1st, one of excitement; "Oh My Gosh, Robert's playing my song!"
2nd, one of realization that he could play it and she couldn't;
"Oh My Gosh, Robert's playing my song!!"
Finally the 3rd, one of resentment; "Oh My Gosh, Robert's playing my song on MY piano!!"
So she decided to do what most sisters are gifted to do. According to Robert, that was to get their brothers in trouble.
"Mommm", Kerry shouted,
"Robert's on my piano and he's going to BREAK IT!!"
Mom, the peacemaker, went to settle the dispute. She already concluded in her mind that she would lovingly explain to little Robert that he was too young to play.
"Robert, Ro..." Mom could not believe her ears or eyes.
With excitement she hugs Kerry and says "Oh my goodness, Robert's playing your song on your piano."
Kerry was not impressed and did not want to hear that; especially those words
"Thanks mom," Kerry replied.
Mom decided that she would call the music teacher and ask her if she can start teaching Robert. The music teacher was delighted to. Then she asked, "How old is he?" Mom proudly answered
"He's three years old and he can play Kerry's song on the piano."
Again, Kerry was not impressed; but the teacher was a little sceptical. She asked
"He's three, and he can play Kerry's song? Who taught him how to read the music?" Mom responded "No one in this house. He simply listened to you play it and figured it out." Kerry's music teacher had to see this for herself; so she scheduled a time to come over to hear Robert. In amazement, she watched Robert effortlessly play the song with both hands.
"That is truly a gift," she concluded.
Though she was impressed and would have loved to teach Robert, she felt that he was still too young to learn how to read music. Also she did not know how to develop someone who has the ability to play piano by ear. So she recommended that mom should wait until Robert at least starts school before starting lessons.
Even though Robert was very sad that he couldn't take any piano lessons that did not discourage him from playing. Instead he made up in his mind that he would not only seek to understand his God-given gift and figure out how to play the piano on his own; he would develop a method that would enable EVERYONE to be able to do the same.
A year goes by and Robert starts kindergarten.
Needless to say, he never ended up taking lessons. However every song he heard at school, he would come home and play it. Oh Canada, Oh MacDonald, EVERYTHING! Everyone was so excited. Robert would make his first public performance performing Silent Night at the age of four at his church talent night.
Following that performance, almost every parent in the church decided to send their child to take traditional piano lessons. That was fine, but Robert's mom let them know that he hasn't taken any lessons and he plays by ear. They figured the traditional methods would be good enough and able to teach their child how to do the same.
Fast forward a couple of years
99% of those other children lost interest, still couldn't play by ear, or just plainly had no lasting results. However at age 7, Robert became the pianist at his church. He understood the fundamental language of music and couldn't understand why everyone could not play piano by ear as well. According to him,
"it's so simple"; and he would try to convince others of that. However they wouldn't believe him because they resolved that he was gifted in music and they were not.
Robert obviously understood music, but because he didn't know the names of the notes or chords he played, he couldn't quite explain it. He would say to others
"It's so simple! Don't you get it?" Unfortunately that method did not work. It didn't solve the root cause of their inability to play piano by ear. So he continued,
"Come on It's so simple. Don't you get it? Don't you un…..wait a minute, THAT'S IT, THAT'S IT!!" Robert shouted!
"You Don't Understand It! You Don't Understand THE MUSICAL LANGUAGE."
From that day on, Robert knew it was his life's mission to figure out a method that would enlighten the world on how to understand and play music by ear. Robert recalls,
"I have always believed that I was going to teach the world how to play music by ear; but I always thought I had tomorrow to do it."
It wasn't until a near death experience that Robert decided to focus on completing and documenting his musical discovery. On the way home one August night, Robert was involved in a 4 car crash only 15 minutes from his home.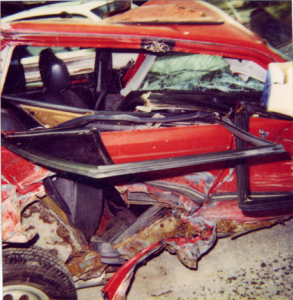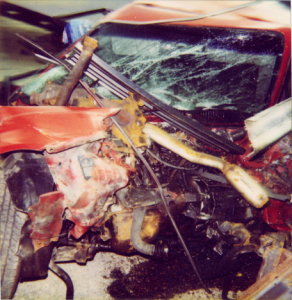 He was miraculously saved and walked away without a scratch (For the full story go to this link - The Accident: Origins From A Second Chance.
He knows that God not only blessed him with a second chance and a gift to play many instruments, He also blessed him with Wisdom on how to teach others how to do the same. King Solomon stated "Wisdom is the principle thing, therefore get wisdom, but in all thy getting GET UNDERSTANDING.
Robert truly believes that once you have this understanding, you too can play music by ear; and there is NO BETTER PROGRAM OR COURSE TO TEACH YOU HOW TO GET THIS UNDERSTANDING THAN THE REVOLUTIONARY "ANY KEY MUSIC SYSTEM."
Get started today with the AKMS™ 1 Year Challenge!!
Or Sign-up as a member to get your musical questions answered and to see more demonstrations with
AKMS™!
------------------------------------------------------------------------