BLOG - "Song Robot" - Play By ear HOAX??
Are you really being taught how to play piano by ear?

I would first like to say that I may come across strong, but in no way am I aiming at demeaning anyone or business. I am simply presenting my views on the subject of "Teaching individuals how to play piano by ear". I have been playing piano by ear for 31 years now (I'm 34 now), and have been teaching others how to do the same for over 15 years through my revolutionary "Any Key Music System" (read my Bi-Ear-graphy)

Let's look at the dictionary's definition of a "Hoax":

1. An act intended to deceive or trick.
2. Something that has been established or accepted by fraudulent means.
I have never been one that likes to take advantage of people, much less take advantage of them for their money (I told you it may be strong). I'm not sure if you heard of it or not, but the newest "Play By Ear" method is a tool called "The Song Robot". I believe the makers and marketers of this product have good intentions; they want to help people play piano by ear. But a song Robot?.
Here are some of the comments about the song Robot:
"I have never seen anything like this anywhere, Truly Amazing."
"It is now Possible, to learn any music of your Choice. Unbelievable."
ARE THEY REALLY LEARNING?
Here's my article on "Illusional Ear Methods"
http://anykeymusic.com/membership/2013/11/12/are-you-really-being-taught-how-to-play-music-by-ear-or-are-you-being-sold-the-illusion-that-you-are/
"...This looks like a useful way for those without sheet music reading skills to build their song repertoire."
[I BELIEVE TRUE PLAYING BY EAR WILL ACCOMPLISH THIS. ASK ALL THOSE THAT CAN PLAY PIANO BY EAR]
"..The song robot seems very interesting, I wonder if it could also show the keys to be played as to left or right hand? For instance Left Hand Light red or pink and right hand in dark red maybe? Is this possible."
[NOW COME ON, WHERE IN THE REAL WORLD WILL THE PIANO KEYS LIGHT UP TO SHOW HOW TO PLAY A SONG ON THE SPOT?]
[OR THE KICKER]
"..where can I download or buy this software man?" HOW IT WORKS The Robot converts your music midi files and displays what the pianist is playing on illuminated piano keys. You then learn how to play a song by watching and copying what's displayed. Now my first question is: If I had a music course and I boldly advertise that: - My site has been "Named The Most Popular Play Music By Ear Site 7 Years In A Row",
- My courses serve over 113 Countries,
- I have about 300,000 musicians who have learned how to play in WEEKS, and,
- I have over 20 courses that teach these 300,000 people how to play piano by EAR;

WHY WOULD I THEN NEED TO COME UP WITH A SOFTWARE LIKE THIS?

Are my courses really teaching hundreds of thousands how to play piano by EAR, or by SIGHT? Watch it for yourself. Do you think your EARS or your EYES are being developed?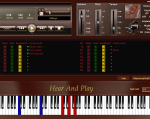 http://www.hearandplay.com/main/the-song-robot-teaches-jazz
IS THIS ROBOT TOOL "PLAY BY EAR" PRACTICAL?

Let's say you're in a situation where you have to play a song on the spot and you're not near your computer. I know this is a digital age and your phone is like a computer; so to give you the benefit of the doubt, you have this song Robot on your phone. Someone let's you HEAR a song on their CD/MP3 player and asks you play to play it on the spot. You answer and say, "Ok, I just have to search the web to SEE if there are any midi files for this song." Let's say that you find it. You have to upload it to the software on your phone, then try and memorize what you SEE. How long do you think this is going to take? Perhaps 5-10min to find the song? How long to you think it will take to actually learn the song as someone is waiting for you to play the song instantaneously? Playing PIANO BY EAR is simply playing what you HEAR. It's highly unlikely that you would learn this song on the spot. So my question to all that use this, how is this method teaching you how to play by EAR and to be independent?
MY BIGGEST PET-PEEVE WITH THE SONG ROBOT

It has a feature called "Transpose" (also found on many keyboards, where, if you want to learn a song in another key it does it for you. I think "EVERY TRANSPOSE BUTTON OR FEATURE OUT THERE SHOULD BE BANNED!! That is one feature that is arguably the main reason why people can't play piano by ear. How can you learn how to run, if you can't walk?
HERE'S MY TAKE
People will become dependant on it and still won't be able to play piano by ear. Because they are thirsty, they are indirectly being deceived for a sale (I know it's strong); they believed that there was no other option (they don't know about the "Any Key Music System" yet). I'll put it like this. Someone is supplying them with water to appease their thirst, but is not empowering or teaching them how to turn on their own tap so that they can supply themselves with water. They are learning "Illusional Ear Methods"


http://anykeymusic.com/membership/2013/11/12/are-you-really-being-taught-how-to-play-music-by-ear-or-are-you-being-sold-the-illusion-that-you-are/

They think they are learning because they can play a song.
THAT'S THE BIGGEST ILLUSION IN THE MUSIC EDUCATION INDUSTRY.
WHAT'S YOUR TAKE?
Do you think it's a Hoax?
THE SOLUTION
You need to be taught how to understand the language of music and I recommend the Revolutionary "Any Key Music System". It specializes in teaching individuals how to "Master The Art Of Playing Piano By Ear" in 1 YEAR!!. But don't take my word for it, TAKE YOURS!!